Carrière Frères X Museum Collection
By working with the National Museum of Natural History, Carrière Frères has chosen to reconnect with botany's historical wealth and centuries of enlightened research. Beginning in the 19th Century, when Carrière Frères was established, the sciences and botany worked to serve industry and progress. The Museum is the guarantor of this legacy. In the heart of its archives is a collection of vellum paper (drawings on parchment) that is unique in all the world.
Its partnership with the Museum allows Carrière Frères to reinforce its interest in the rich botanical and zoological illustrations that date from the early 17th Century to the mid-19th Century. These drawings are of a fineness rarely seen; the coloured plates making up the Museum's vellums reveal rare or unusual plants, and inspire new geographic and olfactory exploration.
As a public and learning institution, the Museum leads ongoing endeavours in research, conservation and education, which shed light on the past as well as on the future. A vital link between yesterday and tomorrow, the Museum works to preserve Earth's biodiversity. It is an action that lies at the heart of Carrière Frères' commitments as well, as it financially supports the Museum's many missions and activities through this partnership.
<<Museum Collection>> Scented Candles
Botany makes perfect sense as the focus of Carrière Frères' approach and commitment. Its close association with the National Museum of Natural History's unique collection of historic vellums and illustrations allows Carrière Frères to highlight plants that are unusual, exotic or packed with history, and rekindle ties with centuries of great botanical exploration. The partnership with the Museum's researchers and with Robertet Group perfumers in Grasse, has produced three original and innovative fragrances: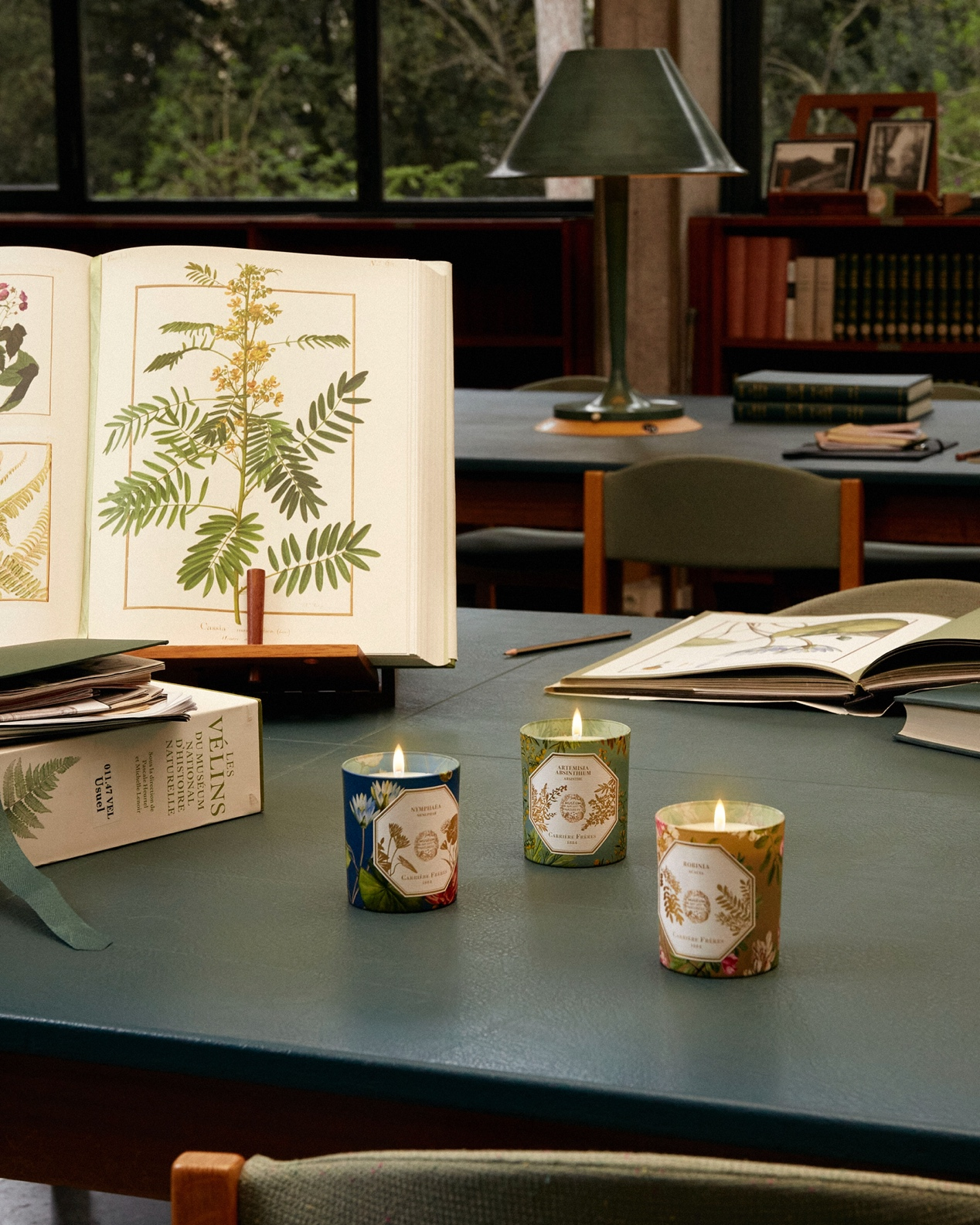 Origin:Absinthe or common wormwood (Artemisia absinthium L.) is a perennial shrub native to continental, temperate zones in Europe, Asia and North Africa. Known since Antiquity, its medicinal use is recorded in Ancient Egypt in the Ebers Papyrus (bet..
Origin:Native to the eastern U.S., the acacia, or black locust tree (Robinia pseudoacacia), has lush, cool green foliage, flat pods that hold their seeds and clusters of sweet, cream-coloured flowers. Named by Swedish botanist Carl Linnaeus in honor ..
Origin: Native to the flooded landscapes of Amazonia, the giant waterlily (Victoria amazonica) is a fascinating perennial water plant. A member of the Nymphaeaceae family, it can grow up to five metres wide, with white or pink flowers reaching a d..
Showing 1 to 3 of 3 (1 Pages)